How It Works
1.
Offer WiFi at your business
Inform your customers about WiFi being available.*
Customers connect with an email or social profiles.
Sign-in screens change automatically depending on the customer.
Facebook check-in is available instantly.


*VivaSpot™ provides you with various marketing props such as door decals and stickers.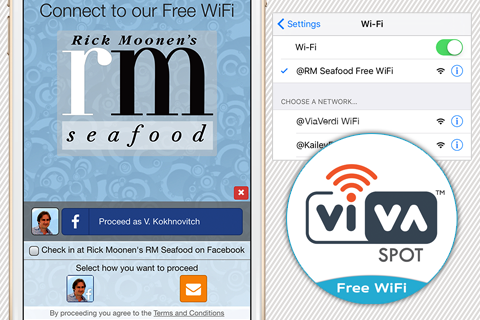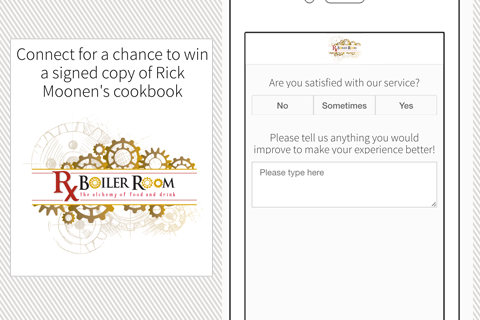 2.
Collect relevant information
Grow your customer email lists every day.
Promote products, specials, and events automatically, or on schedule.
Instantly gather feedback, ratings and reviews.
Improve segmentation with gender, age, spoken language.


3.
Reward, engage & bring people back
Reward first time, returning and loyal customers on the spot.
Bring lost customers back with automatic emails.
Scan and track rewards with your POS.*
Integration with Google Pay, Apple Wallet, POS, 3d party APIs.


*Available on some POS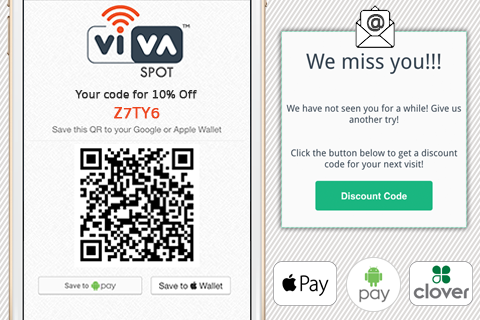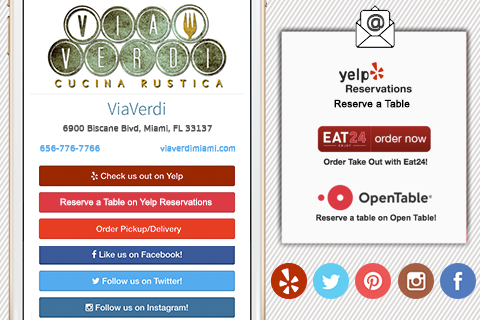 4.
Increase walk-ins and online activity
Automatic follow up emails to drive walk-in traffic.
Grow social presence and influence with exit clicks.
Drive customers to Yelp Reservations, Eat24 and Open Table.
Reach wider audience with Yelp deals.


Easy subscriptions
Mouse over the features for details
Basic
Branded WiFi For 1 Location
Dashboard
Customer Emails + Export
Social
Foot Traffic
Email analytics
Lost Customer Email
Instant Feedback
Contact Sales
Plus
Branded WiFi for 1 Location
Advanced Dashboard
Customer Emails + Export
Social + Facebook Check-In
Advanced Foot Traffic
Email analytics
Lost Customer Email
Instant+Email Feedback
Contact Sales
Premium
Unlimited Locations
Custom Dashboard
Extended Customer Data
Additional Sign-Ins
Extended Analytics
Custom Emails + Campaigns
Custom Triggers
Agency Services
Contact Sales
PCI DSS Compliant Hardware
Many businesses offer free or password-protected WiFi to their customers not realizing that they may be not PCI DSS Compliant and could be facing fines up to $200,000 per month! VivaSpot™ Access Points are made by Cisco and are fully PCI DSS 3.0 Compliant to protect you and your business.
Patented Behavior & Mood Analysis
VivaSpot™ provides your customers with unique journeys as they are connected to your WiFi. Depending on the visits, social profile, preferences and history, customers are guided to various marketing campaigns, providing you with valuable data on your business.
POS Integration
VivaSpot™ is the only WiFi solution integrated into leading POS systems. Full integration allows merchants to create and scan rewards directly on terminals. Other features include extended customer data, automatic order and customer assign, discount and spend tracking.
Partners